Look how proud he is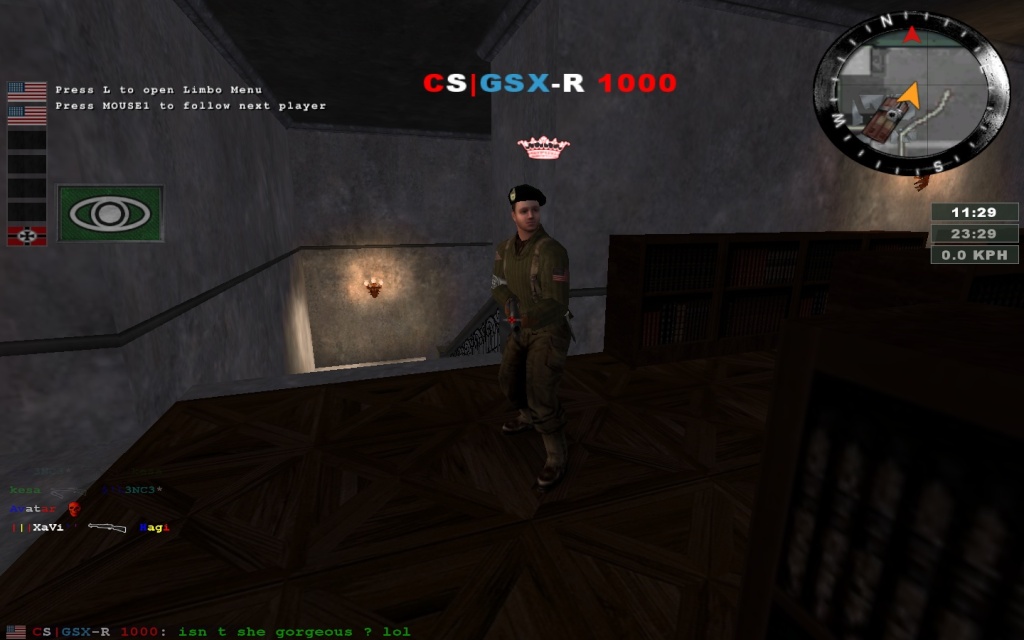 and Nico in game...
Spoiler:
Great
guys to make a sreenshot about our logo

in game , you have well done......


And the real "Nico in game" with his bear's cub , he is cute.........


Nico ?

The next time , think to turn off your webcam because we have any others pictures about you.....


More seriously , listen this song called "The crown" , it is what i listen every days.

Again an unknown singer who has done only one maxi in the 80's......



Production "Stevie Wonder" , 1 more time so high level when he comes to make his show instead 5:33...



"Gary Bird" Featuring "Stevie Wonder"
The crown !!


Spoiler:


yeah thats me!

Now I'm curious about the other pictures you have of me, Seb.
BTW, great song

!nicoisfarting

No problem Niiiicooooo ,

And think i have shorted !nicoisfarting in => !nicoisryan


Thats pretty Ryan, Ryan!

Bonjour.
Le Bean de CS|GSXR1000 est super ! Il n'y a pas moyen d'avoir chacun sa "tête" dans le jeu ? Ce serait trop marrant, surtout si on pouvait en changer suivant l'humeur du moment.
@ bientôt !

CS|Yifu




Messages

: 84


Date d'inscription

: 04/08/2011


Age

: 65



Bonjour Yifu, sur une photo tout est possible avec photoshop... Apres "in game" c'est autre chose, et je n'ai actuellement pas les competences dans ce domaine, je commence a peine a m'interesser à GTKradiant (developpement de map) et 3D studio max (modelisation 3D, animation), je ne sais pas si j'en sortirai quelque chose un jour pour le jeu... Sinon pour toi cela ne serait pas complique de mettre un zippo avec un casque dans le jeu...

CS|Yifu




Messages

: 84


Date d'inscription

: 04/08/2011


Age

: 65



So when you know GTRadiant you can design our own CS map!?


In a first time , if we can modify some maps already it will be great , then we will try to create ourself any maps..........

But it is a long way for your dreams become reality..........

---
Permission de ce forum:
Vous
ne pouvez pas
répondre aux sujets dans ce forum